Citizens Savings Bank
Open: 2 p.m. - 4 p.m. Sundays from the Sunday following Memorial Day to the Last Sunday in August. The former Citizens Savings Bank building was commissioned and financed by C. H. MacNider. The exterior of the building combines elements from a variety of architectural styles. The exterior is designed predominantly in the Classical Revival style. A closer look however reveals elements of other styles including Greek Revival and Art Deco. The interior is done in the Prairie School style, and abounds with oak woodwork, stained glass, and marble.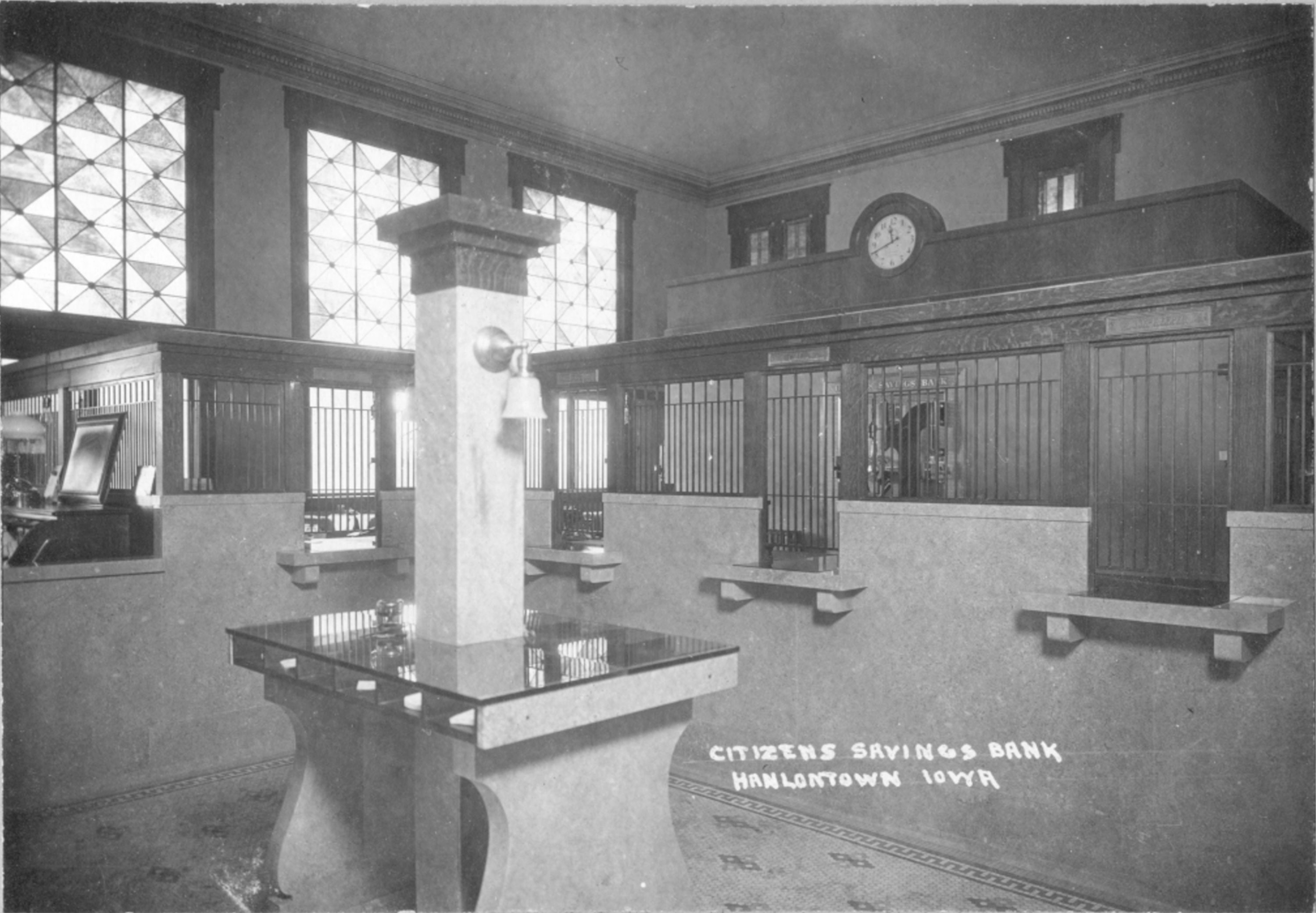 The building was designed by Einar 0. Broaten and constructed in 1919. Broaten is credited, wholly or in part, with the design of several of the lesser-known Prairie School homes in Mason City. He has three other buildings currently listed on the National Register of Historic Places.
Ownership of the building by the Worth County Historical society allows area residents and tourists the opportunity to view this architect's interpretation of the Prairie School style.
The bank operated under the name "Citizens Savings Bank" until Sept. 1, 1981. It continued operating under various names until closing in Sept. 2000. The bank held the distinction of being the oldest bank in the county, and reportedly was one of two county Banks to survive the 1930's depression.
The museum, operated by Hanlontown's Preserving Our Past (POP). The museum focuses on Hanlontown history. This building is one of the Worth County Historical Society sites.
The museum and Sime-Oswald Cabin will normally open from 2pm to 4pm on Sundays durring the months of June, July and August. Exceptions are when the 4th of July falls on a Sunday (will be closed) and the third weekend of June when it is open on
Saturday between 10am and 2pm rather than on Sunday.
While not part of the museum the Farmers' Savings Bank building stands across the street from the musuem. It ope
ned in 1919 was built with a exterior done in the Prairie School Style. The opening of this bank was a major factor in C. H. MacNider's decision to build the Citizens Savings Bank Building. The Farmers Savings Bank handled the funds for most of the farmers organizations in the area and was the center of the farmers business activities. In the spring of 1932, they moved to our neighbor city of Fertile. After that it housed a series of restaurants. The longest of those was the Furness Cafe which opened for business in December of 1952 and operated for the next 25 years.