Church's
Hanlontown has only one church. Many denominations have church's within 15 miles of Hanlontown.
Hope United Lutheran Parish (ELCA)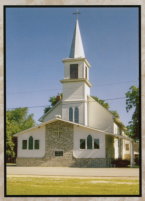 Hope United Parish consists of Grace Lutheran Church of Hanlontown and Bethlehem Lutheran Church of Manly Iowa. For information on Hope United Parish, Grace Lutheran and Brush Point Cemetery please check the Parish Website.

Pastor: Linda Johnson Prestholt

304 E 4th Street
Hanlontown
641-896-2311


Brush Point Cemetery
Located between Hanlontown, Iowa and Fertile, Iowa on Iowa Highway 9. It is owned and operated Jointly by Grace Lutheran and Fertile Lutheran. Free burial rights are provided to voting members of both congregations and are sold to others. Contact information is provided on the Hope United Parish Website.