Sime-Oswald Cabin
This pioneer cabin's oak logs still bear the marks of the ax that split their lengths almost 150 years ago. They were hewn at a time when the country was reinventing itself after the Civil War. The cabin was built b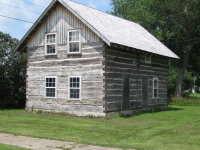 y Norwegian immigrant Arne Sime in 1869. "The skill, the work, the labor it took to do this — it is inconceivable to us today," said Richard Holstad, a descendant of the cabin's builder. Hanlontown is now home to the 18-by-30-foot two-story cabin that, despite as many as three moves from its original spot, still stands strong against time — with a little help. The cabin, large by most standards of early settler cabins, was probably built somewhere south of Highway 105 on or near the southbound lane of Interstate 35. It was most likely moved to a spot near that location before being moved to the late Leo and Jen Oswald farm west of Hanlontown.
Leo and Jen's son, the late Andy Oswald and his wife Pat donated the cabin and and much of the furnishings they had collected to Hanlontown's Preserving Our Past in 2005. The condition of some of the logs the cabin was built of prevented moving it intact so once again it was disassembled and then reassembled behind the Citizens Savings Bank museum in Hanlontown.
If it was not for the efforts of volunteer Arden Bergan this project might have never been completed as the cabin reconstruction was both much more costly and required more labor than anticipated. The accidental death of Arden delayed completion, but now after 7 years of fundraising, contract labor and hundreds of volunteer hours it's once more open to the public. While there are still things to be finished members of the Hanlontown Fire Department and POP cleaned and moved furnishing that had been stored in basement of the museum, into the cabin on July 12th, 2012.
Dedicated on July 15th 2012 the cabin is once again open to the public.
The cabin and Savings Bank Museum will normally be open from 2pm to 4pm on Sundays durring the months of June, July and August. Exceptions are when the 4th of July falls on a Sunday (will be closed) and the third weekend of June when it is open on Saturday between 10am and 2pm rather than on Sunday. This building is one of the Worth County Historical Society sites.